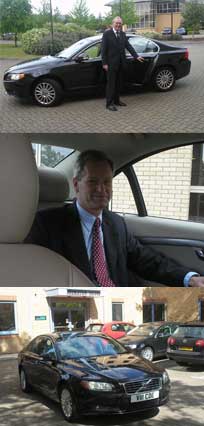 Chauffeur Drive's reputation is built upon reliability and punctuality. Our portfolio comprises of several multi-national companies whose executives are called upon to travel at all hours of the day and night. We are relied upon to provide a personal, confidential and yet affordable door to door service.
All vehicles in our fleet are equipped with telephones and air conditioning and are comprehensively insured for unlimited public liability.

Our MPV vehicles will seat six passengers in comfort with a trailer available if clients are carrying a lot of luggage. Drivers are uniformed and caps will be worn if requested. Newspapers and bottled water are also available on request.

Frequently we are the first contact with your clients in this country so, to promote your company profile, we are happy to supply meet and greet boards with your company name and logo for use when meeting clients or staff.

The office is open from 09:00 to 18:00 for normal business but telephones are manned 24 hours every day for your convenience. Our staff are fully conversant with travelling and check-in times and will be happy to advise at time of booking.

To minimize costs and inconvenience to our clients we monitor and verify all intercontinental flights before the driver departs for the airport as well as any traffic information. Wherever possible this is also done for domestic and continental flights.

Our charges are inclusive of all tolls and 30 minutes waiting at all airports. We supply detailed invoices and offer the usual 30 day credit terms.

If you require any further information please do not hesitate to contact us.